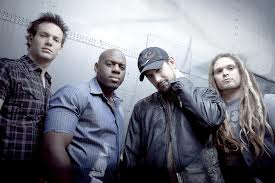 Pillar is going to have a song on what will eseentially be a soundtrack for a major theatrical release called "Day Of War". This song will also be on the new CD from Pillar, which has been delayed until 2014, partly because of their commitment to write and record this song for the movie.
At this time, the song's tentative title is "Lions Lead The Way". Pillar bass player Kalel assures us the song will be very heavy and says it is Noah riffage at its finest. (Referring to Noah Henson, guitarist of Pillar).
Reading between the lines, it sounds like the fact that the guys in the band have, collectively,13 kids now, is probably slowing them down, too. Kalel says as soon as they get done recording this soundtrack song, they will start writing the rest of the new Pillar album.
Update: We got some more specifics from Kalel (bass player Michael Wittig), who tells The Blast's Colin Cruz:
"I will tell you this new Pillar album is going to be freaking heavy. A lot of the music and riffs are written and they are "next level" for us. I am sure Rob has some screams planned in choice spots. We are still going to keep it all catchy and melodic, but the riffs and Lester's drumming is heavy as crud."
The Blast also asked Kalel if Pillar will be purposely independent or if they are pursuing a label deal, to which Kalel said:
"We are open to whatever makes sense. A few labels are waiting to hear from us but we want to get the album done first."
One way Christian rock bands have of helping them achieve longevity (and making a living) is finding some success at Christian "CHR" (Pop/Top 40) radio, so Cruz asked Kalel if they plan on having some ballads CHR radio could play on the album. Kalel says:
"Yeah there will be a few songs for CHR as well."
https://www.theblast.fm/home/wp-content/uploads/2021/05/blast-header-logo.png
0
0
colincruz
https://www.theblast.fm/home/wp-content/uploads/2021/05/blast-header-logo.png
colincruz
2013-09-13 18:11:32
2013-09-13 18:11:32
Pillar To Land Song In Major Movie Theater Release; Full Album Delayed Until 2014: UPDATED WITH INSIDE BLAST SCOOPAGE FROM KALEL