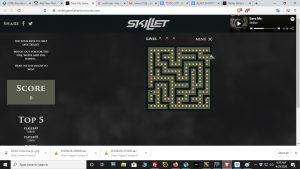 You know you've hit the big time as a rock band when they make a video game about you.
A generation ago, the mainstream band Journey had a video game named after them called "Journey Escape", for play on the Atari 2600 video game system, released in 1982.
A number of other mainstream bands have had video games themed after them in the meantime.
And as we fast forward to 2020,  the band that is on the top of the heap of Christian rock bands has a video game of their own called  "Save Me", themed with the band's latest rock track and music video of the same name.
In the game, John, Korey, Jen and Seth are characters that fans can select and play as.
Once a character is selected, the characters run through a maze where players are meant to avoid various aspects seen in the "Save Me" music video: the hand (callout to John's scene), water/poison (callout to Jen's scene), and fire (callout to John's scene/smoking hands burning his eyes), which will be floating around chasing them; similar to the ghosts in Pac Man.
If you want to give the game a try, go here:
https://www.theblast.fm/home/wp-content/uploads/2021/05/blast-header-logo.png
0
0
colincruz
https://www.theblast.fm/home/wp-content/uploads/2021/05/blast-header-logo.png
colincruz
2020-04-29 13:34:48
2020-04-29 13:34:48
There Is Now A Skillet Video Game