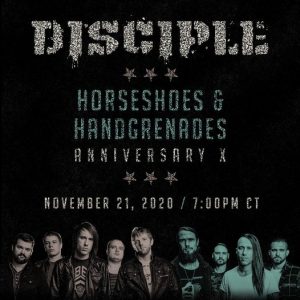 Horseshoes & Hand Grenades was a big album for TheBlast.FM when it came out  in 2010 and for a couple years after that.  We played Battle Lines, Comedy Tragedy, and Disasterpiece, and we still play all three songs.
So this is very exciting news for us, plagiarized from Disciple's Facebook page:
Ten years of Horseshoes & Handgrenades. Two Disciple lineups. One once-in-a-lifetime livestream event.
HORSESHOES & HANDGRENADES: ANNIVERSARY X will stream on November 21, featuring the ENTIRE Horseshoes & Handgrenades album played front to back with some help from "Disciple 2.0:" Micah Sannan, Andrew Welch, Israel Beachy, and Trent Reiff! We'll also be playing Love Letter Kill Shot deluxe tracks "Enemy" and "Darkness Dies" for the first time. Get your ticket now:
itickets.com/events/449963
Horseshoes & Handgrenades left a lasting impact on us as a band, and we have so many ways we want to celebrate all of the support you've shown this album over the past decade. All seven of the Horseshoes & Handgrenades b-sides will be sent to ticket holders VIP and above, there's a special event shirt designed by our friend Jarob at
Quiet Strength Design (
Blast note:  that's Jarob from The Protest!
)
We're doing a VIP Q&A hangout with all of the current members as well as the 2.0 guys, we're offering a very limited run of reprint H&H merch for the Anniversary X ticket package, and there might even be a way that you can be a crucial part of the evening (stay tuned for details).
Like with our other livestream concerts this year, all ticket holders will get access to a full audio and video download of the show afterwards, so you can get a ticket even if you won't be free to watch live! There are more details on the ticket page.
https://www.theblast.fm/home/wp-content/uploads/2021/05/blast-header-logo.png
0
0
colincruz
https://www.theblast.fm/home/wp-content/uploads/2021/05/blast-header-logo.png
colincruz
2020-10-26 22:57:24
2020-10-26 22:57:24
Disciple To Perform Entire Horseshoes & Hand Grenades Album In Concert