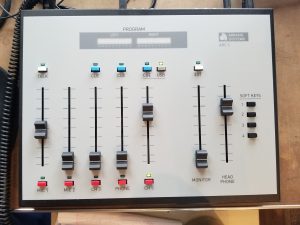 Thanks to a generous one time monetary donation, TheBlast.FM was able to replace its aging (and failing) studio mixer with our first ever broadcast console.   It's brand new, it's small, simple, functional, and beautiful.  And it sounds fantastic.
It is made by Arrakis, which is a pillar in the broadcast industry.
The Colin Cruz radio show instantly sounds better.  The price tag was a bit over $700 with shipping and tax.  We are so grateful that as God guides, God provides.  And God is using you to help fund ministry as we reach people all over the globe with the Gospel of Jesus Christ through radical, aggressive Christian music!
We haven't forgotten about the encoders we talked about.  We haven't had time to implement that, as we are catching up on some other urgent projects, but those are still in the works.
If you feel led to donate to The Blast Ministries, Inc, you can go here:  https://www.theblast.fm/home/donations/
Thank you!
https://www.theblast.fm/home/wp-content/uploads/2021/05/blast-header-logo.png
0
0
colincruz
https://www.theblast.fm/home/wp-content/uploads/2021/05/blast-header-logo.png
colincruz
2021-03-16 17:29:35
2021-03-16 17:29:53
TheBlast.FM New Console Helps Improve In-Studio DJ Sound