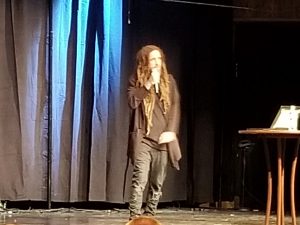 Brian "Head" Welch, lead singer of Christian Rock band Love & Death (and guitarist of Korn) spoke at the Sioux Falls Prayer Breakfast today.  South Dakota Governor Kristi Noem was in attendance and she offered a prayer for government leaders.  Welch started his talk with some lighthearted banter and jokes and he talked about Noem's dust-up with Lil Nas X about his "Satan shoes" and he said we should have some Jesus shoes with which we could stomp on Satan with.
Welch's theme was "the bombs of life".
He said the first bomb in his life was 20 years ago when his wife left him and his daughter when his girl was 2 years old. Welch said he was drinking every night and sometimes taking cocaine to try to numb the pain.  He said one night he woke up at 3 am and he could not find her.  She wasn't able to find him, either, as he had passed out behind a couch.   When he did find her, she was asleep out on the patio in his cigarette-smoking chair, right next to the swimming pool.  That was a wakeup call to him that he could not continue to be a drunk.
Welch was going to change his life.  For four months, he went to the gym and he was drinking protein shakes instead of booze.  Then 9/11 hit, and as he said, it "threw the world into chaos, confusion, and fear."  He succumbed to those emotions and he began drinking again.
When he was getting drunk and getting high, he thought he was feeling freedom.  In 2003, he decided to quit trying to quit and went into full-blown partying.  He hired nannies to watch his girl so he could party more.  He started doing meth in the spring of that year, and he did them every day.   He knew he was addicted to methamphetamines.  He tried to stop and couldn't.    None of the other guys knew at the time that he was on meth and he suffered a massive panic attack due to the inability to stop.
He once ordered meth via Federal Express…to be delivered to his hotel.   He was afraid a dog might sniff it out.  He became suicidal.
This man, Brian "Head" Welch, who was addicted to alcohol and/or drugs from the ages of 15 to 33, finally decided to go to church for help.
Fortunately, he went to a place where he was not judged.  The pastor was very real in his sermon, talking about how he himself had previously been an alcoholic and how Jesus changed his life, and during that message Welch says "hope started getting poured into him."  He said to himself "Maybe God is real.  I gotta give this a try."  And in that church in Bakersfield, California, Welch raised his hand, saying he wanted to receive Jesus Christ.
Welch went on to pray: "Lord, are you real like that guy said?" "This is so weird," Welch thought to himself.   "Because I am going to die for these drugs and ruin my daughter if you don't set me free."
And Jesus revealed Himself to Welch:  he felt unconditional love and he felt God's embrace and that was the end of his drug habit.
Welch has been walking with Jesus Christ for 16 years now.
https://www.theblast.fm/home/wp-content/uploads/2021/05/blast-header-logo.png
0
0
colincruz
https://www.theblast.fm/home/wp-content/uploads/2021/05/blast-header-logo.png
colincruz
2021-04-02 18:10:35
2021-04-03 05:21:27
Brian Head Welch of Love & Death Speaks At The Sioux Falls Prayer Breakfast