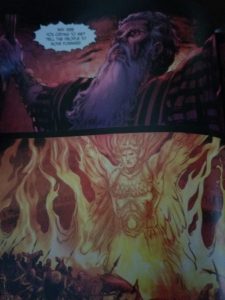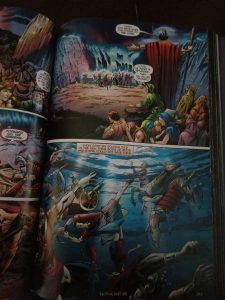 The pictures above, snapped with a cell phone camera, do not do justice to the incredible artistry in these volumes.
BOOK REVIEW:  The Kingstone Bible (Volume 1)
By Colin "Cruz" Strombeck TheBlast.FM Program Director
If you grew up on comic books and/or if you sometimes find yourself getting distracted by the cares of life while trying to read the Bible…Kingstone Comics has a Bible for you.
Here is a Bible that has pictures on every page to visually describe what you are reading about…which may be a big help for some readers to stay focused on the content…and for other readers, it may breathe fresh life into the text that they've read many times.
And not just any pictures.  Beautiful, amazing artistry.  Dark, when the scene calls for it, and always compelling and very descriptive.   This Bible adds that visual layer of context to what's going on…in rich detail.
Published in 3 volumes, every book from Genesis to Revelation is covered.  Every major story of the Bible is covered…and in our brief time holding the volumes, everything looks to be Biblically accurate.  
This will make a great addition to the family library.  And to your church library.
This will be the first in a series of reviews we write about this 3-volume edition, as we are just getting started.   
https://www.theblast.fm/home/wp-content/uploads/2021/05/blast-header-logo.png
0
0
colincruz
https://www.theblast.fm/home/wp-content/uploads/2021/05/blast-header-logo.png
colincruz
2020-12-05 23:21:14
2020-12-05 23:21:14
Book Review: The Kingstone Bible