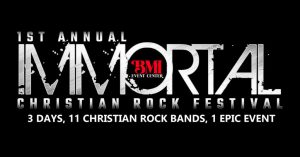 It could easily be called the Immortal Christian metal and hard rock festival as that is what's on the menu.
The Immortal Christian Rock Festival will definitely rock your face, with Blast band Chaotic Resemblance rockin' at the fest as are newcomers to The Blast playlist:  Fear Not, which just put out quite a modern song called Fields Of Sorrow.
While Chaotic Resemblance is a blend of new rock and classic rock styles, Fear Not is an 80's hard rock/metal band whose heyday was in the early 1990's.  Fear Not garners significant airplay on The Blastozoic Era.
You've heard the band Gale Force on The Blast.  Their lead singer Michael Drive (fka: Mike Lee) is also the lead singer of legendary Christian metal band Barren Cross, which plays at the festival with all their original members.
Several other fabulous 80's Christian hard rock and metal bands play at the fest, including (Classic) Petra, Whitecross, Daniel Band, and Saint.
Go here for more details:  https://www.bmieventcenter.com/christian-rock-festival/#ARTIST
https://www.theblast.fm/home/wp-content/uploads/2021/05/blast-header-logo.png
0
0
colincruz
https://www.theblast.fm/home/wp-content/uploads/2021/05/blast-header-logo.png
colincruz
2022-07-17 06:45:11
2022-07-17 06:45:11
TheBlast.FM Co-Sponsors Immortal Christian Rock Festival