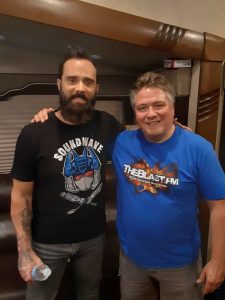 TheBlast.FM founder and Program Director Colin "Cruz" Strombeck and John Cooper met in 1999 during Skillet's Hey You, I Love Your Soul tour.  That was Skillet's second album.  Colin Cruz, then known as Colin Cruise, was the music director and an on air personality on what was at the time, an Albuquerque FM Christian Hot CHR radio station called K-LYT.
Colin was an early adopter of Skillet music on the radio…he played songs from their first album at his previous Christian rock radio shows before moving to Albuquerque and under Colin's direction, K-LYT played so much Skillet music that the band took notice and thanked Colin Cruise on their 3rd and 4th albums in the liner notes.
TheBlast.FM equally believes in Skillet.   Skillet has always been a core band here and it is always a pleasure to talk to Cooper.    We are airing the first three segments of our recent interview we recorded with him, on Friday September 24th in the 2 pm hour, USA/Canada Central Time, with more segments airing next week.
https://www.theblast.fm/home/wp-content/uploads/2021/05/blast-header-logo.png
0
0
colincruz
https://www.theblast.fm/home/wp-content/uploads/2021/05/blast-header-logo.png
colincruz
2021-09-24 05:16:45
2021-09-24 05:20:42
TheBlast.FM's Colin Cruz Interviews Skillet's John Cooper Friday Sept 24 2021 + Next Week