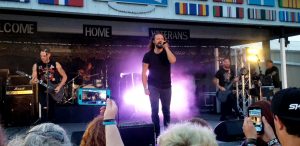 The Protest at Kingdom Come Fest 2020
Indiana's own The Protest has a BIG following in the Hoosier state.   They are from New Castle, Indiana, about an hour and a half away from the venue near Greentown, a village near Kokomo.  Lead singer Joshua Bramlett says the band is "not a big deal in their hometown of New Castle."
That lines up with Luke 4:24, where Jesus says "Truly I tell you, no prophet is accepted in his hometown."  But in their nearby adopted hometown of Kokomo and in Greentown, and at the Kingdom Come Festival, they are huge. 
Here's how we know that:  the crowd for the mid-evening The Protest concert on Saturday was larger than the crowd for the headliner Disciple.  And that is certainly not a knock on Disciple…it's a testament to how popular The Protest is in their home state. 
The band left New Castle at 9:30 in the morning and didn't finish that 90 minute drive until early evening, as their bus broke down three times in between New Castle and Greentown.
We know who didn't want them to come, but the devil did not win.   God got 'em to the fest, bus and all, and they put on a great rock show.   Highlights included Welcome To The Freakshow, a rockin' cover of Michael Jackson's 1982 pop radio hit Beat It, and Noise Revolution, which is chronicled here:
https://www.facebook.com/TheBlastFM/videos/1574988186003990/
https://www.theblast.fm/home/wp-content/uploads/2021/05/blast-header-logo.png
0
0
colincruz
https://www.theblast.fm/home/wp-content/uploads/2021/05/blast-header-logo.png
colincruz
2020-07-16 17:04:14
2020-07-16 17:04:14
The Protest Battles Through Bus Breakdowns; Rocks The Stage at Kingdom Come Festival 2020